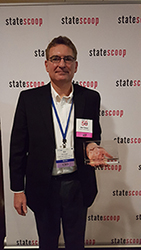 APR. 25, 2017 (ARLINGTON, VA.) — This week a newcomer to government, Ed Toner, received national recognition for his work in consolidating state IT resources for Nebraska's public sector. Named "State Executive of the Year", in the annual StateScoop 50 Awards, Nebraska's Chief Information Officer (CIO) was honored Sunday, at a reception in Crystal City, Virginia. The event helped to kick off the National Association of State Chief Information Officers' (NASCIO) Midyear Conference.
Toner joined the state as Nebraska's CIO in June 2015, appointed by Governor Pete Ricketts. His career with the state has held a strong focus on creating efficiency and reducing technology costs for government as he now nears completion of an IT consolidation effort spanning the state. The groundwork he laid for the project has already saved Nebraska agencies hundreds of thousands of dollars. Toner is also recognized for his customer-centric focus and attention to IT at every level. "When customer agencies come to a state's IT help desk, they don't see everything behind the scenes," he told StateScoop, "to the customer, their first point of contact is IT."
Members of the state and local IT community nominated thousands of government leaders in March, 2017. StateScoop narrowed the list to the top 150 with the most nominations and StateScoop readers cast more than 100,000 votes nationally in April to select the final 50, 2017 winners. Said Goldy Kamali, founder and CEO of Scoop News Group, StateScoop's parent company. "We are honored to recognize the distinguished leaders across the state IT community who have made important contributions to their governments, their citizens and the country as a whole in the past year."
StateScoop is a division of Scoop News Group – publisher of FedScoop, CyberScoop and EdScoop, and producer of numerous public sector IT events, including FedTalks, which draw top leaders from the White House, federal agencies, distinguished members of Congress, and from industry.